Open Pano Thermal - HCIL
research
project
engineering
computer vision
Jan 1, 2017 → Jun 1, 2017
Project Thermo reliably creates thermographic panoramas of indoor locations in order to identify energy inefficiencies in rooms and buildings.
I worked on this project as a volunteer at the Human Computer Interaction lab at the University of Maryland, College Park.
The software I wrote was integrated into a self-contained device which could take a series of thermographic images over the course of several days in order to map heat issues over time.
The project is a fork of
OpenPano
adapted for thermographic images.
After many dead-ends I ended up achieving great results by first normalizing and enhancing the images using
ImageMagick
, then stitching them together using OpenPano.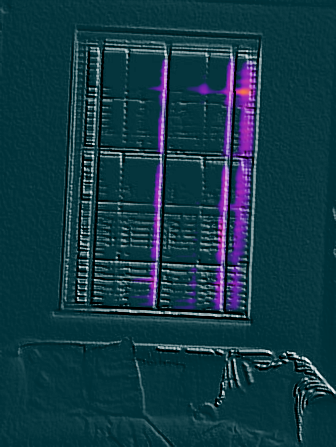 Results obtained using this software were published in two academic papers, possibly more:
Matthew Mauriello, Jonah Chazan, Jamie Gilkeson, and Jon E. Froehlich. 2017. "A Temporal Thermography System for Supporting Longitudinal Building Energy Audits."
Mauriello, M., McNally, B., Froehlich, J. 2017. "Thermporal: An Easy-To-Deploy Temporal Thermographic Sensor System to Support Residential Energy Audits"
Software Used:
Python for scripting everything
Image Magick for normalizing
Exiftools for reading meta-data
OpenPano for image stitching